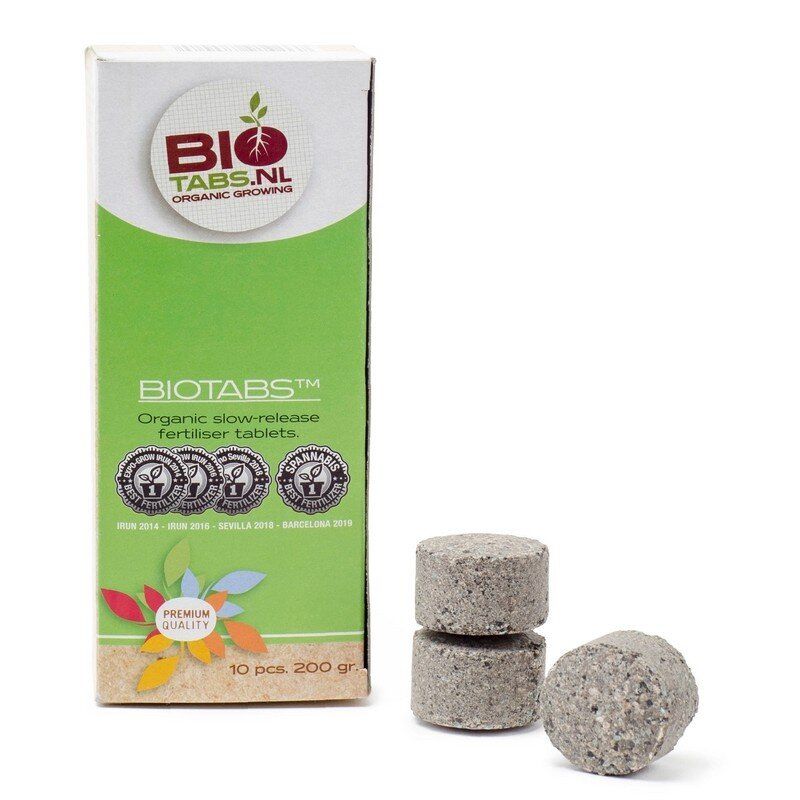  
Biotabs Fertiliser Tablets 10
NPK 15-7-8 Organic slow-release fertiliser tablets for plants.
To be used with all kind of flowers, vegetables, herbs and for plants, trees and shrubs.
  Ordered before 2 p.m., next day delivery BE  
BioTabs condition the soil through microbiological activity while fertilising the plant.
Organic cultivation becomes child's play for beginners and advanced growers alike.
The tablets contain organic fertiliser NPK 15-7-8 AND beneficial soil bacteria For soil or Coco, for potted or ground plants, for indoor or outdoor growing.
Put BioTabs 5-10cm deep into the potting compost or Coco and water plants.
The tablets contain a formula of slow-acting organic nitrogen, bone meal, blood meal, feather meal, fish meal, natural humic acids and beneficial soil bacteria. The beneficial soil bacteria improve the soil and contribute to the good uptake of the fertilizers, resulting in uniformly healthy growth without leaching of the fertilizers. The unique combination of fertilizers and soil bacteria ensure healthy growth and healthy soil.
Customers who bought this product also bought: